The cost of a wedding today can be astronomical, and even when working within a strict budget it seems that there is always something that comes up to challenge it. Even the simplest wedding can become expensive if a tight rein is not kept on the costs. Fortunately there are ways to have that fairy tale wedding you have always dreamed of without using up all of your savings, or worse still starting married life off with a ton of credit card debt.
The following ways to save money on your wedding will help you have the wedding of your dreams without 'breaking the bank':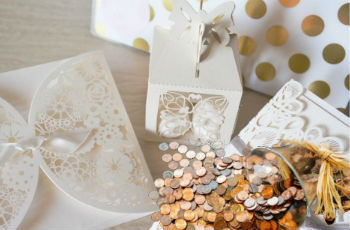 Weekday Wedding – Saturday is the most expensive day of the week to hold a wedding so choose a day in the week to have it. Opt for later in the day at a time when the light will still be good for photographs after the ceremony but will give those working an opportunity to come straight from work to attend. Those coming from out of town will be able to get flights during the morning and then rest up before the ceremony in the evening. Children can attend the ceremony and then be taken home to bed.
Limit Alcohol – Instead of providing a full bar serve only beer, wine, and fruit juices and/or fruit punch (non-alcoholic). You can choose to serve 2 or 3 different beers and both red and white wine but even with the variety it will still be far less expensive than serving hard liquor and cocktails. It will also mean that you can reduce the cost of bar tending staff as they do not have to have experience in serving mixed drinks.
Limit Flowers – Fresh flowers are one of the biggest expenses both at the wedding ceremony and the reception. Cut down dramatically on the cost of floral decorations by using a large amount of greenery and just a few select blooms. You don't have to choose the most expensive flowers either. Opt for those that are in abundant supply as they are likely to be cheaper per bloom.
Combine Ceremony and Reception Venues – Find a venue that can provide you with a place to hold the ceremony, have the photographs taken and hold the reception all on the one premises. This will cut down on the costs of traveling between venues and will avoid the costs of having flowers transported from the ceremony to a reception venue some distance away. If you really want to cut down on expenses even further have your guests seated at dining tables as you say your 'I Do's' at a makeshift altar at the front of the room. It can easily be removed to make way for dancing once the ceremony is over.
Write Your Own Invitations, RSVP Cards and Menus – If you have graphic design experience or have a friend or family member with graphic design skills, design your own invitations, RSVP cards and dinner menus. Anyone with calligraphy skills can write the information on them or alternatively you can type the items up on a computer using attractive fonts and other elements. You can then either have them printed up professionally or if you want to reduce costs even further print them yourself on heavy paper. If you ask a friend or family member to do the designing for you, you can always ask them to do it as their wedding gift to you which will not only save you money but them as well.
Use a DJ for Music – Live bands, even those that are local and not well known, can cost a small fortune. A DJ can provide music for a lot less and will typically have a wide choice of music to choose from. You can give them an indication of the music you want to play prior to the date so that they can arrive well prepared.
Serve Dinner Buffet-style – You can cut down on the cost of both serving staff and the food cost itself by serving buffet style. Having everyone get up and serve themselves will avoid the need for table wait staff. The caterers can keep the buffet tables well stocked, replenishing dishes as they become empty. Keep the fare simple: a choice of two meats, several choices of vegetables, and a couple of side dishes. A simple dessert such as apple pie a-la-mode will give your guests something sweet to end the meal with.
Simple Wedding Cake – If you want the 3 tier wedding cake but cannot afford the 3 tier price have your cake decorator decorate the top layer only. For the middle and bottom layers, place fresh flowers around the edge. If you are having a small guest list you can have the top layer be real and the middle and bottom layers false i.e. boxes with frosting over them. Once you have done the ceremonial cutting of the cake your caterer can remove the top layer from the other two and take the faux layers away.