Though traditional weddings are still extremely popular there is a growing trend towards themed weddings. The latest trend is Valentine's Day themed wedding. There are plenty of ways to maximize the romance. Your guests can enjoy romantic cocktails and atmosphere. But you still need something special for your bridesmaids. You can thank them for their help with something unique, stylish and personalized, check here for a great range of ideas. Though the marriage ceremony still remains fairly traditional the wedding and reception venues as well as the clothing may be anything but. There is an element of fun to a rock themed wedding that is less formal but just as meaningful. After all, a wedding should be a happy, fun occasion, right?
Unique Ways to Celebrate Your Wedding Day
Aboard a Cruise Ship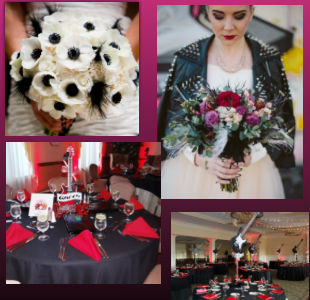 What a romantic and exciting rock wedding you could have with nothing but ocean providing the stunning backdrop. Many cruise lines offer special wedding packages and will take care of a lot of the arrangements for you so that all you have to do is get you and your guests aboard ship. You can get married by the Captain if he is licensed to conduct marriage ceremonies, and then have your reception in one of the fine dining rooms. Alternatively you can choose to cruise to a special destination and get married there, then your guests can return to the ship to cruise back home while you and your loved one enjoy your honeymoon.
Disneyland Fairy Tale Wedding
Southern California's Disneyland is a popular wedding venue for the fun-loving couple who want to get married in the 'happiest place on earth'. Cinderella's Castle is the perfect backdrop for the official (and unofficial) wedding photographs to be taken. The bride can arrive to the marriage ceremony location in Cinderella's horse-drawn carriage to be united in matrimony with her very own Prince Charming. The entire wedding can be as elaborate or as simple as the soon-to-be married couple wants it to be. Accommodations around the theme park are plentiful for both honeymooning and for guests. If traveling to California seems a bit 'too much' but the idea of an amusement park wedding is appealing watch out for the new Disneyland-style theme park to be built in Kent!
Transportation
There are so many fun and romantic ways to arrive at a wedding venue. Though limousines and vintage cars are popular choices, horse-drawn carriages are romantic too. Those are fairly traditional transportation choices, but if you want to really stun your guests have them arrive via hot air balloon! Imagine their surprise when they arrive at the allotted time and location to discover that they will be hopping into a hot air balloon basket. Just be sure to provide the option of arriving by car for those who find the hot air balloon ride unappealing.
First Dance
Instead of the bride and her father taking to the dance floor first as in traditional weddings, have the flower girl and ring bearer start the dancing off. It will simply melt the hearts of every guest there and then once the two little ones have danced for a minute or two the bride can dance with the ring bearer and the groom with the flower girl. This is a great way of including children in the reception before they get whisked off to bed for the night, and is particularly fitting if both the couple are combining families with small children. Choose a fun song that the children will enjoy dancing to so that they don't feel awkward.
Themed Wedding Cake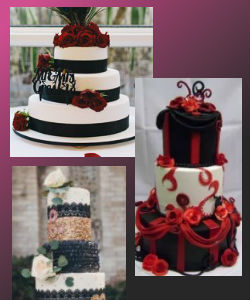 Three tiers of white frosted rock themed wedding cake with the typical fondant flowers and the bride and groom on the top is beautiful to behold, and is a fitting tradition for a formal wedding, but if you and your loved one want a themed cake the sky is the limit. There is very little that can't be done to decorate a cake that will be a true reflection of your personalities. Think 'outside the box' and come up with a creative idea that will make you both happy. Perhaps you met at a bowling alley, so a cake that is made to look like the lanes at a bowling alley may be perfect for the two of you. If you both love to go to amusement parks a cake that has a replica of a roller coaster could be the perfect choice. You don't have to go entirely themed either. You could have the traditional 3 tier cake but have themed touches added to it. A good cake decorator will be able to help you come up with the perfect cake idea.
Take Everyone on Your Honeymoon
There is no hard and fast rule that says the bride and groom have to take off to an undisclosed location to honeymoon together. For many couples a wedding is a rare chance to be with family and friends that they don't see often, so what better way to enjoy time with them than to have them honeymoon with you. You can still steal away for time alone and yet enjoy time with loved ones. Find accommodations in the same hotel so that you can all dine together, or rent cabins side by side.